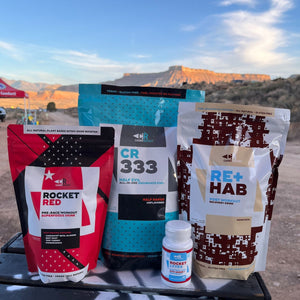 The PR Stack (Stack & Save 10%)
Regular price
$129.52
Sale price
$143.91
This PR stack includes...
1. Rocket Red Pre-Race/Workout Superfoods Drink, 30-servings
2. 333 Half Evil All-In-One Endurance Drink, 10-20 servings depending on your calorie needs
3. RocketLytes Electrolyte Capsules with Ginger & Peppermint, 30-servings
4. Rehab Post Workout Recovery Drink, 20-servings
Super simple strategy on using the PR stack to crush a bunch of new PR's
Take 1 serving of Rocket Red 45-60 minutes before your workout or race. This gets your blood flowing to your muscles as well as flushes lactic acid during activity, effects of 1 serving last 2.5-3.5 hours. Fine to take more than 1 serving for activities lasting over 3.5 hours
Take 1 serving of 333 per hour of activity to keep your glycogen topped up and muscles fed.
Take 1-2 servings of Rehab immediately after workout to replace glycogen and provide protein for muscle protein synthesis.
Use the Rockeltytes to increase your electrolyte intake depending on need and activity as well as to increase electrolyte intake during periods of intense heat.
Boom! Snag yourself a PR or two!