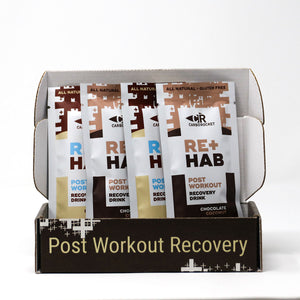 Rehab Post Workout Recovery Challenge Box!
Regular price
$6.95
$0.00
Recover smarter, go farther!
Your Challenge is to use our Rehab Post Workout Recovery Drink after you exercise.
We'll send you 4 single-serve samples in flavors Chocolate Coconut and Horchata for FREE!
Your entry fee is the cost of shipping + handling. (Just $7.95)
If you don't notice a difference in your muscle recovery or don't enjoy the product, we'll refund DOUBLE your entry fee!
Sound fair? 
Why you need to check into Rehab!
An often overlooked part of training and racing is recovery. After a hard workout/race it's crucial to replenish muscle glycogen and begin repairing muscle damage as soon as possible. There's a small window of time to feed your muscles in order to maximize recovery and gains. The faster you can get easily digested carbs and protein to your muscles the faster and better you can do it all over again. Replenish, rebuild and recover with REHAB!
1 serving of REHAB (1 scoop, 20 servings per container) PROVIDES:
8 grams WHEY PROTEIN ISOLATE
23 grams GLUCOSE
2500mg GLUTAMINE
2000mg BCAA's
Benefits:
Replenish muscle glycogen and rebuild muscle tissue quicker
Recover faster and support your immune system
All natural - gluten free - lactose free
Mixes instantly and is seriously delicious
Usage: Mix 6-8 oz of water per scoop. Body weight less than 150 lbs = 1 scoop. 150-200 lbs = 2 scoops. 200+ lbs = 3 scoops. No mixer or blender bottle necessary. Drink immediately after exercise for the fastest recovery possible.
INGREDIENTS:DEXTROSE, WHEY PROTEIN ISOLATE, DiCALCIUM MALATE, L-GLUTAMINE, NATURAL FLAVOR, DiMAGNESIUM MALATE, DiPOTASSIUM PHOSPHATE, SALT, BRANCHED CHAIN AMINO ACID BLEND (Leucine, Isoleucine, Valine)