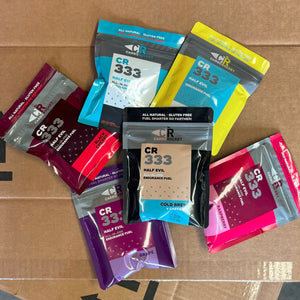 Half Evil Sampler-Pack
Regular price
$19.00
Sale price
$23.82
Can't decide? Try all 6 flavors for only $19

Get a sample pack of all 6 flavors of 333 Half-Evil all-in-one endurance drink for 20% off!

3 caffeinated flavors - Lemonade, Raspberry and Cold Brew
3 non-caffeinated flavors - Grape, Black Cherry, Unflavored
333 calories per serving that tastes and drinks like 100 calories! Also has BCAA's and all the electrolytes you need to crush your all-day races, training and adventures!